Scell-it® launches ELEMENT range
10 April 2019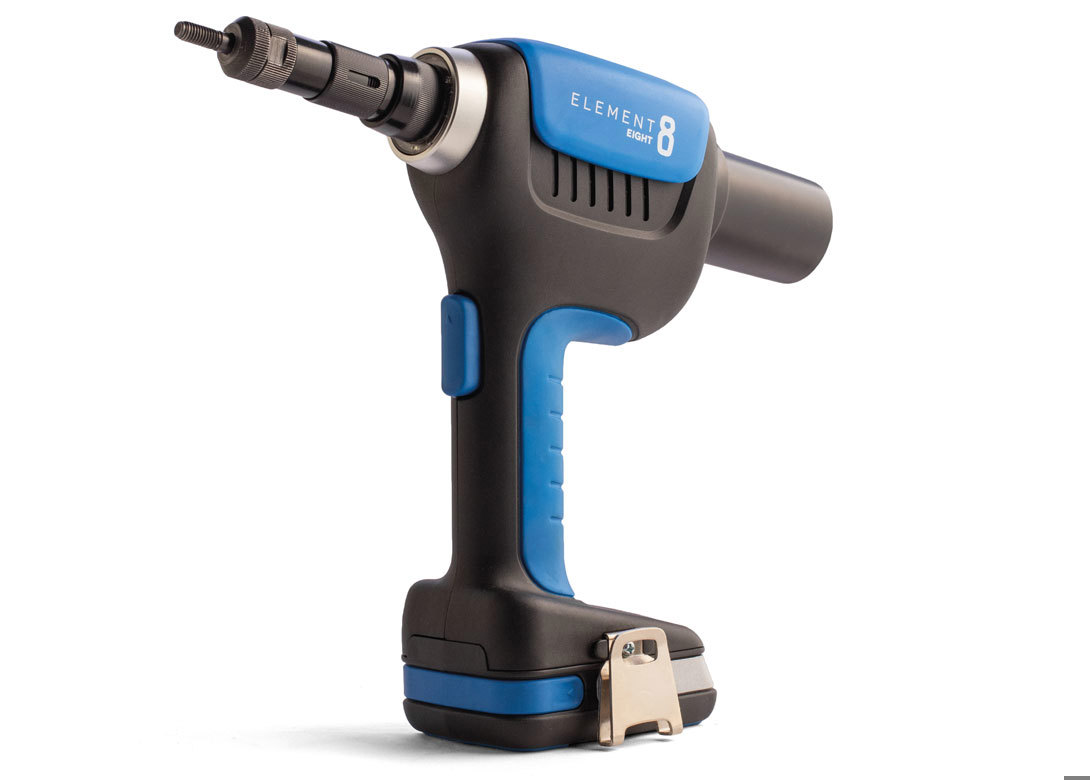 Scell-it® SAS has launched its own full range of battery tools named ELEMENT – confirming the brand's development strategy on the industrial market to meet all the needs of professionals in the metallurgical industry, seeking to gain autonomy and freedom of movement.
Scell-it® has designed the ELEMENT battery tools to have a greater freedom of movement due to having no hose or compressor. Their compactness, combined with an ideal weight-to-power ratio, ensures optimal operability, regardless of the angle of application, to overcome the most difficult access operations, without the user becoming tired. Moreover, a dedicated unique 'footprint' has been added to its back, allowing the tool to be put on a scaffolding or work plan upside down. Easy to use and maintain compared to a pneumatic machine, the company says its ELEMENT range is ideal for professionals looking for simplicity.
With the unique and interchangeable 18V/2Ah lithium-ion battery, the ELEMENT battery tools also have a long life that allows users to work long hours, without changing the battery. The complete ELEMENT range is delivered with two batteries in standard (except the E-5 and E-8, for which the quantity of battery choice is left to the buyer) and has fast charging that ensures there is always a battery ready to use.
An ingenious French design
Scell-it believes that the ergonomics of a product is as important as its efficiency. That is why its products are exclusively designed in France along with local partners, whose skills and expertise are known and recognised. This results in an exclusive patented design for the most ergonomic tools.
A low and well distributed weight combined with handling comfort and ease of use, ensures hours of work without fatigue. With a smart design the new ELEMENT tools feature numerous attributes such as charging light indicators, three integrated LEDs to ensure the visibility of the darkest working areas for more precision, and a fastener allowing the user to attach the tool to a belt or hang it at a fixed station.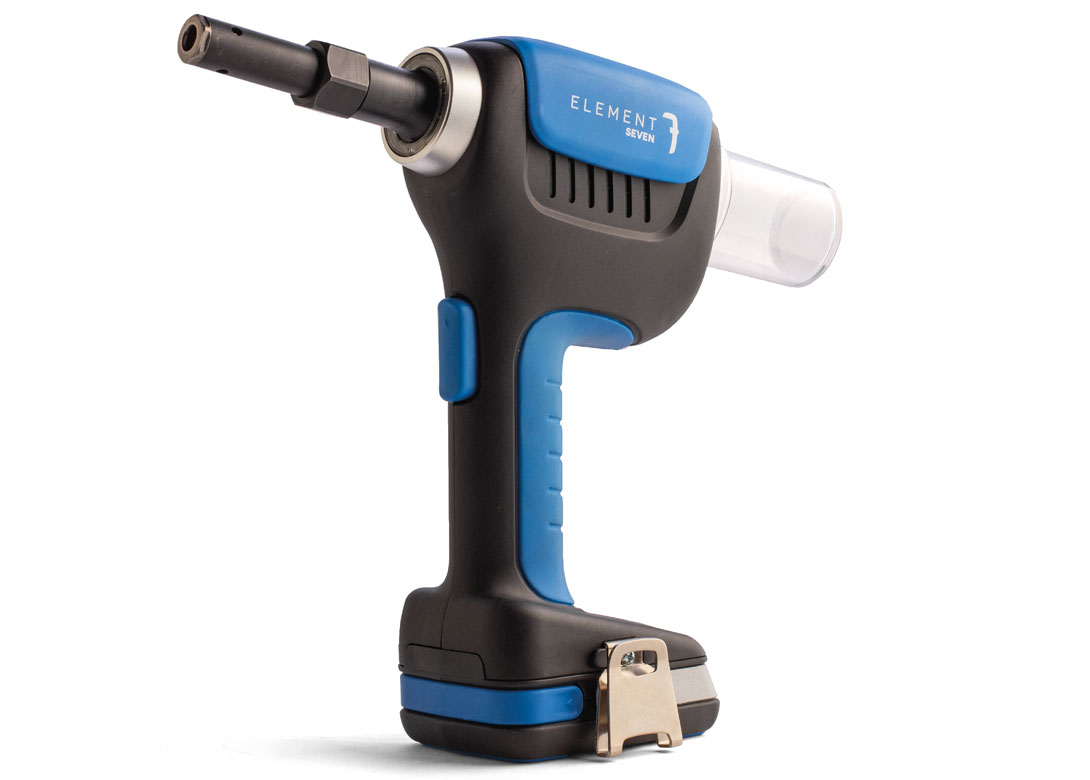 Each tool has its own specifications:
Element-5 (E-5) – the pioneer of the range, which was launched in 2017, the E-5 already has several hundreds of satisfied users. It allows installation of all kinds of blind rivets from 2.4mm diameter (³⁄₃₈ inches) to 4.8mm diameter (³⁄₁₆ inches) in all kind of materials including aluminium, steel and stainless steel.
Element-6 (E-6) – equipped with six standard installation noses, the E-6 battery riveter allows the installation of structural rivets such as the Scell-it HYPERIV (double locking assembly) and Scell‑it SUPERIV (adapted to the strongest mechanical constraints, wide clamping capacities), as well as other competitor brands such as Hemlok®, Magna-Lok® and Monobolt®. It enables installation in all kinds of materials including aluminium, steel and stainless steel from 4.8mm diameter (³⁄₁₆ inches) to 6.4mm (¼ inches).
Element-7 (E-7) – the E-7 is very powerful and allows the installation of pins and collars of four types, depending on the selected kit. The first kit is included in the original box and additional kits are sold as options.
ELEMENT-Tight (E-T) – the E-T riveter, with its large stroke, is specially dedicated to WED (triform) blind rivets types, making it ideal for roofing, cladding and modular buildings. Three installations noses for diameters 5.2mm (¹³⁄₆₄ inches), 6.4mm (¼ inches) and 7.7mm (¹⁹⁄₆₄ inches) are included in its box.
ELEMENT-8 (E-8) – the E-8 rivet nut tool is available in three different boxes, allowing the buyer to choose the quantity of batteries needed, depending on the users' tools fleet. This tool makes it possible to blindly install a complete range of cylindrical or hexagonal blind rivet nuts, in all kinds of materials and with M3 to M8 diameters.
ELEMENT-12 (E-12) – available in the 3rd quarter of 2019, the E-12 has a traction power of 23,000N. It will enable the installation of large diameter blind rivet nuts up to M12.
ELEMENT-Split (E-S) – the E-S rivet nut tool, with its longer anchor and extended stroke is dedicated to the specific installation of triform nuts with a diameter of M5 to M8. Particularly suitable for soft materials such as plastic these nuts can be used on support with large thicknesses.
ELEMENT-Hexcut (E-HC) – the E-HC is a hexagonal punching machine that transforms a cylindrical hole into a hexagonal one on sheets up to 3mm (⅛ inch), depending on the type of metal to be punched, from diameter M4 to M10 depending on the selected punch. The E-HC is equipped as standard with three standard punches (M5, M6 and M8), however M4 and M10 punches are also additionally available.
"The new ELEMENT range of battery tools underlines our ambition to become the specialist in battery rivet and rivet nut tools. It completes the E500RB and E640RB premium battery riveting tools range, providing a powerful and accessible alternative for every kind of customer – even occasional users," explains Jérémy Foulon, technical director at Scell-it.