Economic, durable enclosures
15 October 2018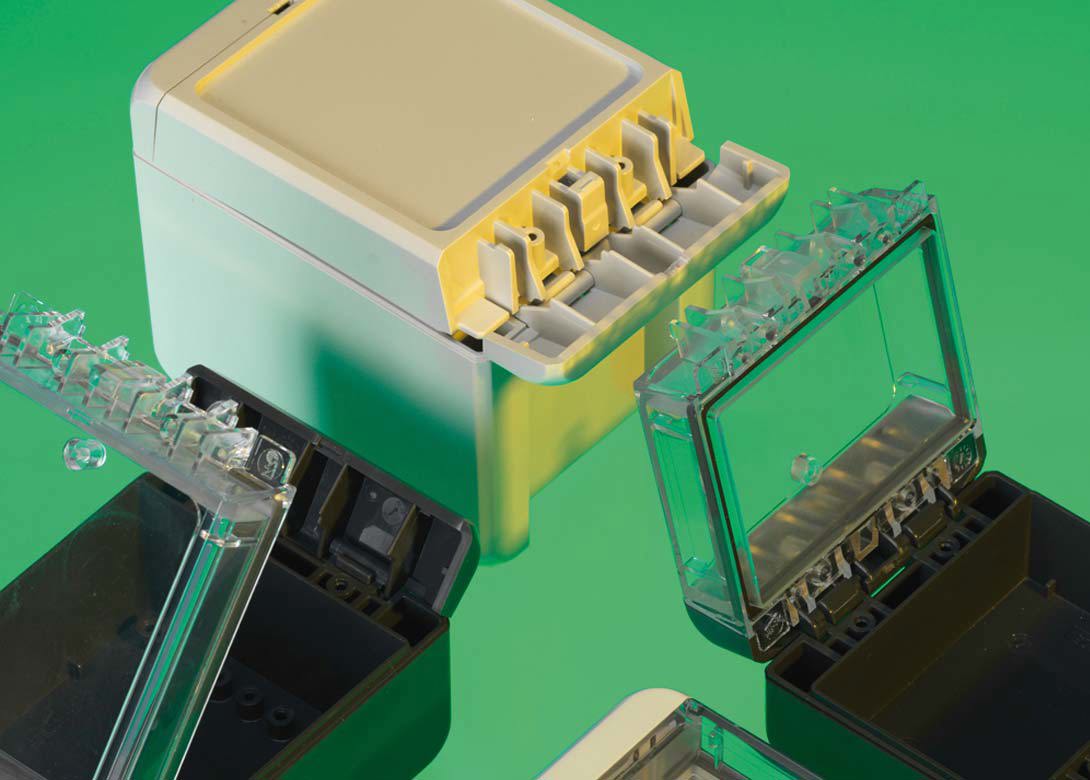 Electrical systems are only as robust as the most sensitive component, so choosing a suitable enclosure can go a long way to ensuring reliability. Meeting this need, Optimas Solutions Components Division is now offering its customers a wide range of enclosures and cabinets to ensure electrical components are safe from the wear and tear that industrial applications inevitably experience. Furthermore, end users can benefit from an integrated service, combining cost-effectiveness, short lead times and a wide range of customisation options from leading brands in-house.
For those looking for enclosures for general industrial purposes, the standard range of ABS and polycarbonate enclosures offers economic performance. Injection moulded, each enclosure offers either IP66 or IP67 ingress protection – while all provide a standard IK08 impact rating. Delivering weather resistance and an operating temperature range to suit almost any application environment, boxes can also be supplied with metric knock-outs allowing simple installation of cable glands or grommets.
Screwless and hinged enclosures are also available, with polycarbonate and ABS plastic options. A hinged quick release feature allows these enclosures to be closed by hand, without the need for additional tools. The innovative lid design enables the enclosure to open on the right or left side with the help of a standard screwdriver, while the opposing side is always held captive and forms the hinge. Transparent lid options also provide easy inspection of electricals within, making this a particularly versatile enclosure design for use in tight spaces.
End users also have access to an economy range of junction boxes, which provide a cost-effective route to integrated IP66 ingress protection in outdoor environments. Weather and UV resistant, the junction boxes offer an integrated sealing membrane to ensure fast installation removing the requirement for further components, such as cable glands. Internal space is suitably enhanced with the addition of a bellied lid, making this a great option for those working to a tight budget.
While larger than a typical enclosure, electrical cabinets perform much the same function. Optimas Solutions Components Division is now offering these durable cabinets in the range, an optimum selection for use in rail or roadside applications. Manufactured via polycarbonate injection moulding, this production technique avoids the time-consuming fibreglass production process and the corrosion that can be associated with steel. It also allows for the range to be offered at an economic price, while still retaining comparable IP and IK ratings, as well as any anti-tamper properties. Accessories such as protection doors and hanging kits are catered for in stock.
Optimas Solutions Components Division goes further than simply supplying standard products however, with the business offering customers a dedicated in-house sub-assembly and customisation capability. End users can therefore benefit from a one-stop-shop for enclosures, incorporating label printing, fitting, painting, EMC shielding, machining, kitting, bagging and component fitting. Ultimately, this delivers an exact solution that provides the added value and time benefits inherent to specifying from one source. The Optimas Solutions Component Division can even assist in preparing designs and layouts, adding industry expertise as part of your order.
Optimas Solutions Components Division is able to provide enclosures in almost any quantity, from tens of custom kitted examples to thousands of standard designs. As a result, there is ultimate versatility in range for those requiring economic, high performance enclosures, no matter the size of project.