Intertronics supplies innovative Born2Bond™ adhesives
18 June 2020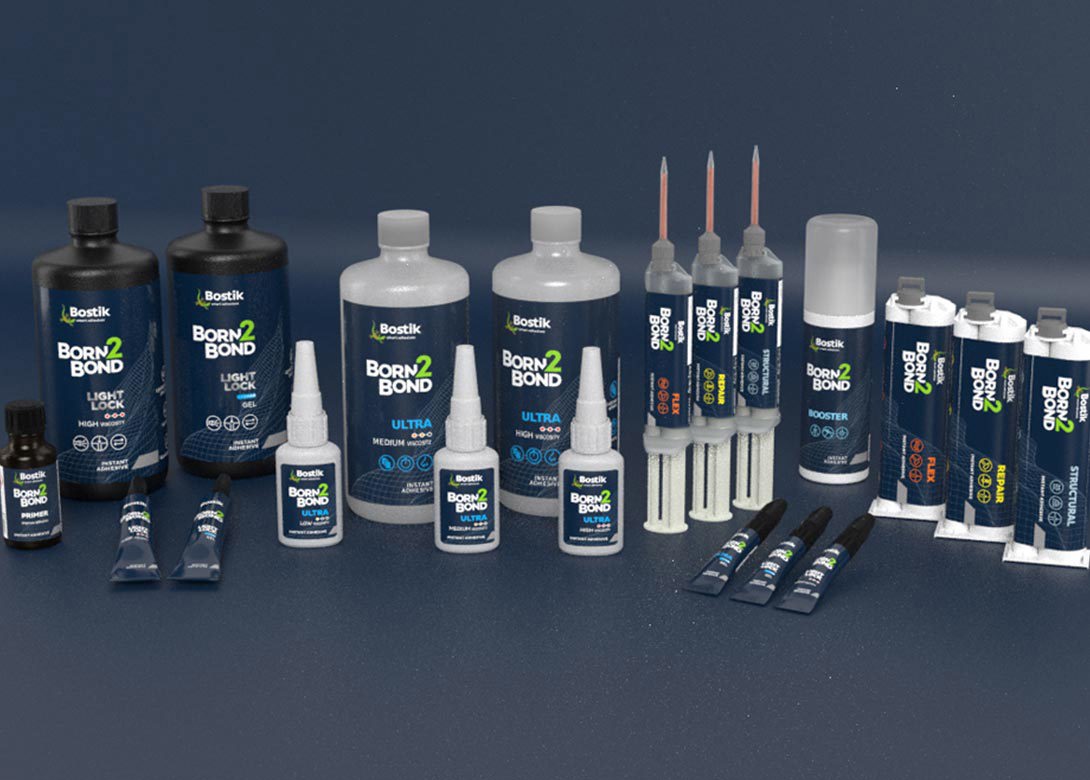 Intertronics has been appointed as a distributor of Born2Bond™, a new range of cyanoacrylate (CA) adhesives suitable for bonding applications in high technology industries such as medical devices, electronics assembly, automotive manufacturing and aftermarket.
The new patented products have been designed to overcome the speed issues of a traditional methoxyethyl cyanoacrylate (MECA) product, whilst still offering the stability and strength of an ethyl cyanoacrylate (ECA), meaning manufacturers can use CA adhesives with fewer compromises.
CAs are a quick and relatively strong structural adhesive option and are the only fast bonding adhesives to be single part and cure at room temperature. However, they have historically come with numerous compromises, such as odour, blooming, limited performance, and brittleness.
ECAs are commonly used to bond plastic, metal, wood, and ceramics; with MECAs used in applications requiring low odour and low bloom. Another way to overcome some of the compromises is to use rubber toughened CAs. These improve resistance to stress, vibration and temperature. However, these products are either slower to cure, not suitable for gap filling, or more expensive; adding alternative trade-offs.
Peter Swanson, managing director of Intertronics explains – "There has historically been a negative perception of cyanoacrylates, due to their limitations. Despite this, there has been very little innovation in cyanoacrylate chemistry in the last 15 years until now. Born2Bond adhesives are manufactured using a new 'crackless' process. This means that it is possible to overcome many of the issues associated with the methoxyethyl cyanoacrylates, while retaining the benefits of ECA products."
The new product line spans multiple ranges, including; Born2Bond Ultra and Born2Bond Light Lock. Born2Bond Ultra is the fastest MECA based and comes in four viscosities. It is low blooming, low odour, fast curing, and non-irritant. It offers increased flexibility and instant adhesion on multiple surfaces.
Born2Bond Light Lock is a dual cure product type that cures with either light or moisture, and offers low bloom, low odour, is non-irritant, and tack free. It offers a long open time with light activation. Light Lock is available as a gel and a high viscosity product. It is certified to ISO 10993-4 and ISO 10993-10 for medical device applications.
Born2Bond 2K products come in a two part cartridge and include Structural, which offers a short fixture time, gap filling and high toughness. Structural also offers temperature resistance of up to 120°C and a significantly longer open time than alternative products. The repair product is sandable, has high bond strength, offers gap fill and is significantly faster than alternative products. Flex products offers elasticity and instant bonding, for which there is no equivalent technology on the market.
The Born2Bond products complement Intertronics' current CA product range, offering an additional option to manufacturers looking to reduce the trade-offs associated with CAs.